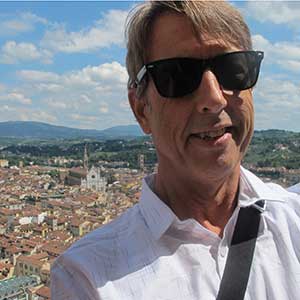 EDUCATION
James Tiebout graduated with honors from the College of Graphic Arts and Photography at Rochester Institute of Technology with an emphasis in design & typography. His experience composing foundry type by hand in the typography lab gave him an understanding of how type works on the printed page. This informs his current work using computers to compose type for the page or screen, with an eye to creating even color and texture.
From 2001–05, he took classes in web design at Glasscock School of Continuing Studies, Rice University. Here he learned the basics of web design with HTML, that expanded to the use of CSS (cascading style sheets) and has continued with the current iteration of HTML5 and CSS3 to create responsive web sites that reformat per device screen size.
In the summer of 1982 he traveled to Trinity University in Dublin, Ireland for a Graphic Design Workshop sponsored by the School of Visual Arts, NYC. The faculty included Milton Glaser, Ed Benguiat, Richard Wilde, and James McMullen, with an international mix of students.
In Houston he attendied art classes at the Glassell School of Art from 1977–79, studying Photography, Drawing Fundamentals I + II, Visual Fundamentals I + II, Life Drawing, and Color.